Shape Optimization of Automotive Components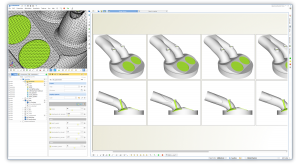 CAESES® is a comprehensive software solution for exploring and optimizing complex automotive components, such as internal combustion engine components or external aerodynamics. Together with your design expertise and your CFD package, CAESES® can greatly boost the performance while drastically saving time and cost due to a more efficient design approach.
CAESES® bridges the gap between traditional CAD and simulation. It provides intelligent geometry models for robust variation of the shape, and CFD automation to conduct design explorations and optimization.
The focus of CAESES® is the CFD-ready and variable CAD. It is typically used as-is with an intuitive graphical user interface. However, it also can be fully scripted so that it seamlessly fits into your existing design process.
Who Uses CAESES?
Leading players in the automotive sector use CAESES® for the optimization of internal and external flows, e.g. VW, Daimler, Toyota, BMC, Mazda and Aisin AW.
Intake and Exhaust Ports
CAESES® gives you a variety of specialized techniques to automatically vary the geometry of intake or exhaust ports. Several leading automotive companies use CAESES® for the design and optimization of these engine components, typically in combination with simulation packages such as CONVERGE or STAR-CCM+ etc. Read this short blog post about intake port design for more information.
Piston Bowl Design
Create your parametric piston bowl contour and if required generate the 3D shape. Connect tools such as CONVERGE or any other simulation tool and readily start the exploration. For all these applications engineers want to analyze and assess a larger set of design variants. Once your CAESES® is ready, the variant generation and analysis is done automatically – with a single click. Browsing through the results including pictures and 3D flow data gives you fast insights and a better understanding of the product behavior. Everything in a single graphical user interface!
Check out this interesting blog post about piston bowl design which comes with a video. There is also a VW case study. There is also an example for piston bowl design and optimization with CONVERGE.
LIVE PREVIEW
There is an online piston bowl demo model where you can change the shape parameters. The compression ratio gets automatically adjusted, and you can download an example geometry.
Ducts and Manifolds
You can find all sorts of complex-shaped components in engines that are often heavily optimized in terms of their flow characteristics. CAESES® helps you to drastically speed up these design tasks, by fully automating the generation of new design candidates.
Electric Powertrain
CAESES® provides a comprehensive tool set that assists you in finding the optimal shape and configuration of electric powertrain components. Simply fully automate the variant generation and develop highly competitive products for the electric era in the automotive sector.
Turbochargers
Are you designing automotive turbochargers? With CAESES® you receive robust and variable volute models where you can build-in all your ideas, and that can be perfectly hooked into automated processes. At the same time, turbocharger impellers can be considered as well in your optimization run: CAESES® provides comprehensive and flexible blade design capabilities – specifically geared towards CFD-driven shape optimization.
See the turbomachinery section for more information.

External Aerodynamics
No matter what kind of external component you need to optimize: The techniques that you get with CAESES® will allow you to explore novel designs in a completely new way. Be creative and try out all your ideas – in shortest time! If you are dealing with automotive wing designs, you should really give it a try – you will be amazed by the effective and creative possibilities of CAESES®. Check out this blog post about the F1 rear wing model from the animation below.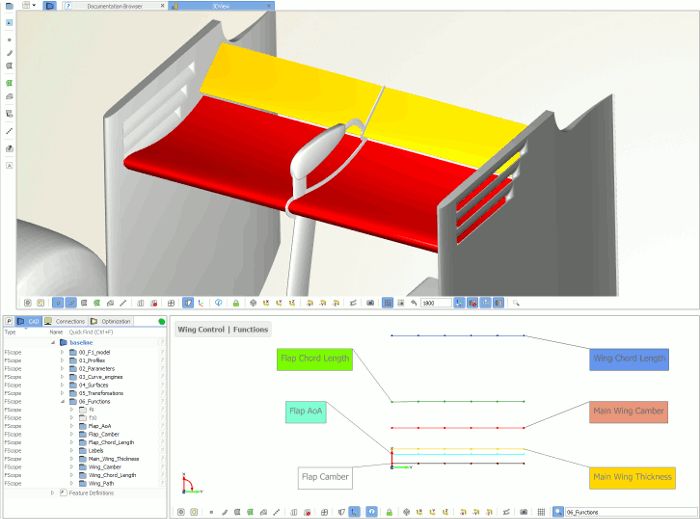 LIVE PREVIEW
There is an online live preview of the aero package from a race car. Change the front and rear wing, as well as the diffuser, and download these components as STL file.
Example Applications
In-cylinder: combustion chambers, piston bowls, ports
Intake/exhaust manifolds and ducts
Turbochargers: impellers, single/twin-scroll volutes
Fuel injectors and delivery systems
EGR systems
Exhaust after-treatment, catalytic converters, mufflers
Torque converters
External aerodynamics: wings, diffusers, mirrors, ducts, etc.
Climate control ducts and fans
Water pumps
Engine coolant jackets
Electric powertrain components
Battery cooling optimzation
Questions?
Please do not hesitate to get in touch with us if you have questions in the context of your specific application. We look forward to discussing it together with you!
More Interesting Articles
In our case studies section several automotive examples are listed. The optimization of a catalyst converter is described in this article. A fuel injector variation is shown here. There is also a post about gear pump design and optimization. An automotive water pump design is described in the blog post "Water Pump Design: Geometry for a Shrouded Impeller". The design of a turbo inlet duct is given in this article.