CAESES® stands for "CAE System Empowering Simulation" and its ultimate goal is to help engineers to design leading flow-exposed products. CAESES® is a unique optimization environment that offers integrated simulation-ready CAD capabilities, full CFD automation and state-of-the-art optimization strategies. All in a single and unified user interface.
Build variable & simulation-ready geometry that is 100% robust during variation
Automate your meshing and simulation runs
Conduct design studies and shape optimizations
CAESES® gets used in various industries, typical areas of interest include ship hulls, turbomachines, ducts and manifolds, engine components, aerodynamic bodies, amongst others.
UPFRONT CAD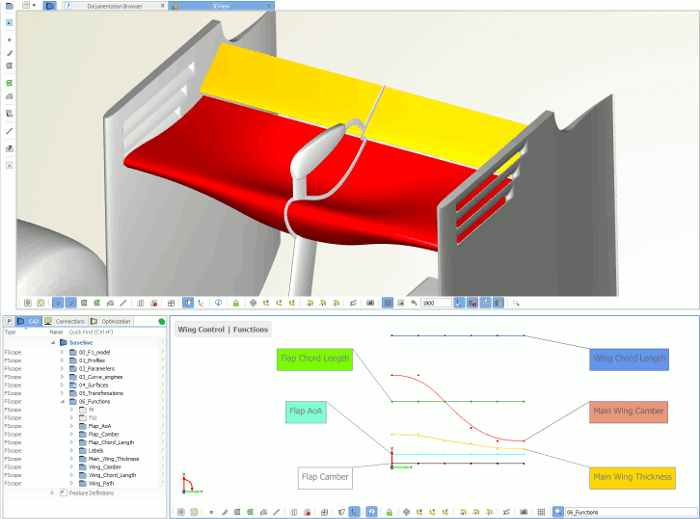 How to create a smart and 100% robust design variant of a product? For this purpose, utilize CAESES® as your primary CAD software to create variable and simulation-ready geometry, or use it in a collaborative and integrated way with your traditional design and production CAD.
Learn more about Upfront CAD …
Simulation-ready CAD, 100% robust, even for large sets of designs
Create more intelligent 3D geometries based on a CFD-centric thinking
Everything is geared towards the generation of design variants
Smarter shape controls to reduce degrees of freedom (hence save simulation time)
One-time CFD-preprocessing work for all geometry variants
Examples: Blades, volutes, ducts, diffusers, pumps, engine components, wings, ship hulls
UPFRONT CFD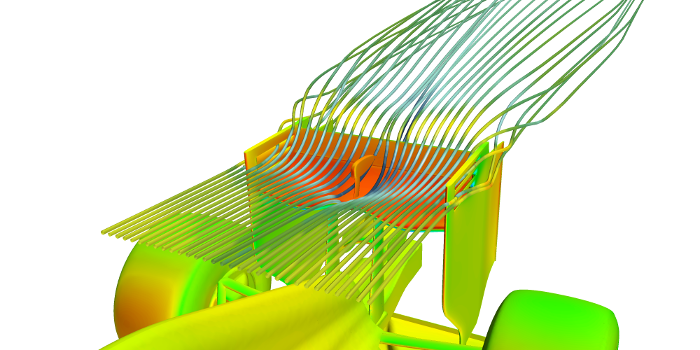 Connect your CFD package in just a few minutes to the environment of CAESES® to analyze a new design variant with a single click. CAESES® integrates with most of the leading commercial CFD codes as well as in-house codes. Examples for simulation tools that have been coupled to CAESES® are STAR-CCM+, ANSYS Fluent/CFX, NUMECA products, OpenFOAM, SHIPFLOW, to name a few.
Learn more about Upfront CFD …
Easily connect your meshing and CFD software of choice
Analyze a new design candidate with a single click
Use the integrated post-processing environment for a quick assessment
UPFRONT OPTIMIZATION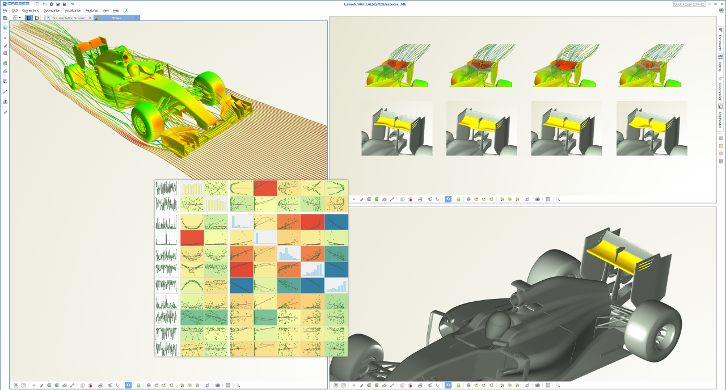 This is why we finally developed CAESES® for you! Directly explore your product behavior by using the intelligent variable geometry and your CFD connection. CAESES® comes with a set of ready-to-go variation and optimization strategies that allow you to run automated studies – again, with just a single click!
Learn more about Upfront Optimization …
Run design studies and shape optimizations with state-of-the-art strategies
Make use of surrogate models / response surfaces
Find your best design by means of amazing charts and diagrams
---
TEMPLATE MODELS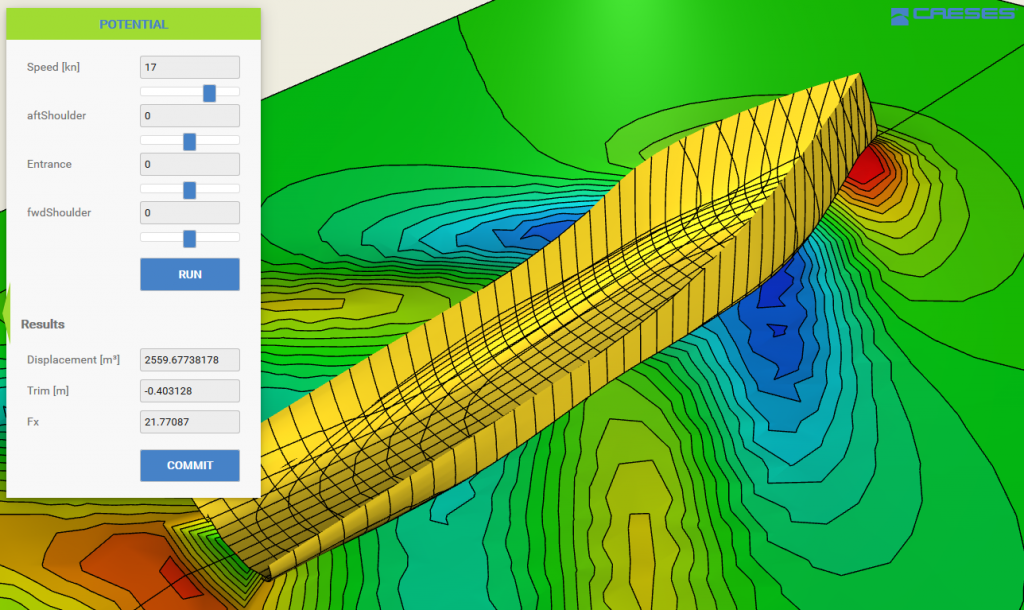 No time to learn a new software? No problem! We provide variable and robust geometry models on the basis of CAESES® that are easy to use and that can be quickly integrated into your workflow. You need no CAESES® expertise for this, our custom templates come with an intuitive user interface (e.g. just with simple sliders, fields for input values, buttons).
Learn more about our services …
Ready-to-use variable geometry models exclusively for CFD departments in just a few days
Optionally, we connect your CFD software to these models and automate everything
Create, analyze and assess manual designs with a single click
Run design studies and shape optimizations
Fast integration of the CAESES® design process into existing workflows
If required, we offer training to understand and modify existing templates
How To Buy
If you are interested in buying a commercial pro license of CAESES® or a template model, then just get in touch with us directly. We'd happy to discuss your individual application and how CAESES® could fit into your current design workflow.
"We launched a pilot project with FRIENDSHIP SYSTEMS to evaluate CAESES® in May, it helped us solve a time-critical task in July and it became a design tool by October. By then we had created flexible and robust parametric models for complex parts, enabling us to optimize in design spaces we had previously not been able to explore."
Editions
We provide different licenses for companies and for academic purposes. Ranging from a standard edition up to a power edition: There are several editions to choose from, depending on your application and design task. Read more ….
Free Trial License
We provide free trial license for 2 weeks. If you need more time, just let us know – no problem! Simply download and install CAESES® from our download area. During the registration process, choose "Node-Locked License", enter your data as well as "TRIAL REQUEST" into the field "Invoice Number". That's it.
Free Student / PhD Student License
We also offer a personalized, non-commercial free academic edition for students and PhD students! This pro edition comes with CAD, CFD integration and the full optimization environment. Download and install CAESES® from our download area. During the registration process, choose "Node-Locked License", enter your data as well as "STUDENT" into the field "Invoice Number". Right after the installation, please additionally send us your certificate of enrollment (PDF or image) using this email address. Once we have received this, we issue the license. As a student, you can use the forum for getting quick help with CAESES®. As soon as your certificate expires, just send us an updated one using this email address (include your license ID in the subject line), and we will extend it again.
---
A Short Comparison to Other Tools

When it comes to the CAD modeling capabilities, CAESES® has its focus primarily on the design and variation of complex free-form surfaces. We target CFD engineers that need a lightweight and flexible tool for the pre-CAD stage, to explore new and innovative designs, and to give recommendations to the CAD engineer.
Our users build models that typically have less parameters than traditional CAD models, and they skip details that are not relevant for simulation. Instead, they build-in parameters that follow a flow-centric thinking, to have an intuitive and effective control that is related to the flow. Furthermore, our users often set up a model such that the patch names and edges are fixed during a variation, in order to be able to fully automate the meshing procedure. As a result, creating and analyzing a new design candidate of a geometry is absolutely robust. The robust variation of parametric geometry models is really the core competency of CAESES®.
In terms of optimization, CAESES® offers a set of strategies for advanced parameter studies and shape optimization. Here, our focus are CAE engineers that need to automatically vary a geometry model. Furthermore, CAESES® has a batch mode possibility and hence can be controlled by other optimization software. So if you already have an optimization software, you could simply stick to it and use CAESES® only for the robust and efficient generation of geometry variants. This is one typical situation in our user base.
As a final remark, CAESES® is completely independent of the meshing and simulation software that you use in your company. We are not restricted to a specific vendor, which is of interest for our users when they consider to jump on another simulation software, for instance.
---