CAESES
Optimized products make you stand out from the mass in the engineering market. CAESES® helps you to achieve this goal by letting you create powerful robust geometry models that can be integrated into any simulation-driven optimization loop. This makes CAESES® an efficient and automated CAD engine for faster design studies with your meshing and simulation tools.
CAESES® gives you flexible parametric modeling but also integrated capabilities for process automation and shape optimization. This combination in a single user interface makes it an all-in-one design system for simulation engineers from any industry.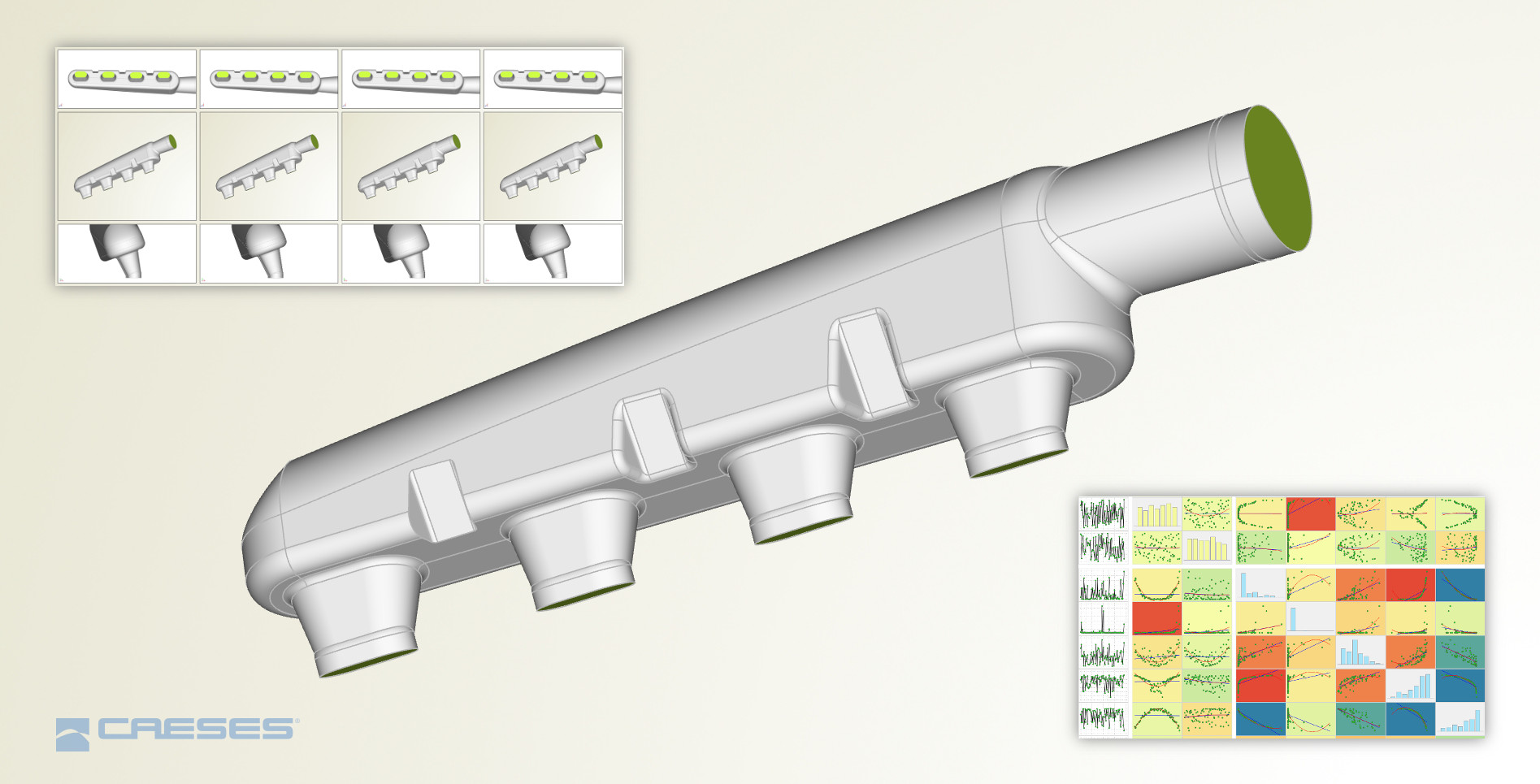 Why CAESES?
CAESES® stands for "CAE System Empowering Simulation" and its ultimate goal is to design optimal flow-exposed products.  It's literally made for simulation experts, but also a great choice for CAD engineers – especially if they work closely with the simulation department.
CAESES® focuses on automation!
The creation of geometry variants can be fully automated and is 100% robust, thanks to the dependency-based modeling approach – as opposed to the history-based approach of other CAD systems.
Automation-Ready
All generated geometries are clean and watertight without any manual pre-processing. CAESES models contain fixed patch identifiers (surface IDs) to automate the meshing process.
Efficient Geometry
CAESES® models have less parameters which saves computational time in optimization processes. You can build design constraints into your CAESES® models, such as cross-sectional areas, minimum distances to keep, manufacturing constraints, hard points, etc. This ensures that only feasible designs are created during optimization runs.
Explore and Find Optimal Designs Faster
CAESES® itself contains no CFD or other simulation methods, instead it seamlessly integrates your existing tools to create a closed loop. CAESES® contains capabilities for automation of simulation tools to couple flow and structural analysis, plus integrated strategies for parameter studies and shape optimization. Together with the robust CAESES® geometry models, you are ready to investigate large sets of new design candidates in a massively reduced time frame.
Typical Applications
CAESES®  is used in various industries. Typical areas of interest include ship hulls, turbomachines, ducts and manifolds, engine components, aerodynamic bodies such as aircrafts and race car components, amongst others. CAESES® is suited for both internal and external flow applications.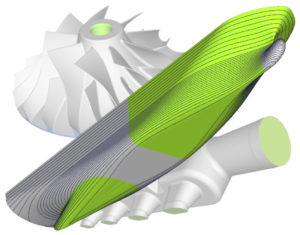 Who Uses CAESES?
Leading companies all over the world use CAESES® for the design and shape optimization of engineering products. Examples are Caterpillar, MTU, Toyota, SAMSUNG, SIEMENS, just to pick a few. See the industries page for a list of selected references.

Also Available for Linux
Having CAE tools that can be automated on HPC clusters is crucial nowadays! That's the reason why we additionally support Linux platforms and a batch mode (non-GUI version), to let you exploit all your hardware resources. Read more.
---

Geometry Modeling
Create smarter parametric geometry for simulation with fewer parameters and with more flow-related control! CAESES® gives you specialized CAD for CFD that is geared towards generation of design variants.

Simulation-Ready
All parametric models in CAESES® are ready for automated meshing and CFD analysis. The geometry is clean, closed and colored in terms of their boundary information. Save time with one-time pre-processing that gets automatically applied for all new design candidates.

CFD Automation
CAESES® allows you to integrate and automate your CFD or other simulation software. With this, you can analyze a new design candidate with a single click. Any external tool that has a batch mode can be immediately integrated and coupled to your geometry model.

Optimization
Once your geometry is ready and your simulation package is integrated, you can run design explorations and shape optimization. CAESES® provides a set of methods for the automated creation of design candidates so that no external optimization software is required.

Shape Deformation
In addition to the parametric modeling capabilities of CAESES®, you can make use of morphing and shape deformation techniques. These methods are suited for fast shape optimization of existing geometries such as mesh or NURBS data. This greatly complements the CAD functionality of CAESES® and provides you further tools for the optimal design of your product.

Powerful Scripting
CAESES® is a completely command-based platform where the commands are triggered in the background of the graphical user interface. However, all commands can be directly accessed by yourself to fully script, automate and customize the use of CAESES®.

Optimization with Adjoint CFD
The use of adjoint CFD methods has been getting more popular in recent years. As an answer to this, CAESES® allows you to couple the results of adjoint CFD with the geometry parameters of your model. This reduces the number of model parameters to run faster shape optimizations.

Custom Templates
No time to learn a new software? The variable and robust CAESES® models can be wrapped into an easy-to-use interface for non-experts of CAESES®. Use simple sliders and buttons to control your model, export geometry or even run full optimizations with one click.
---
FAQs
What makes CAESES® unique compared to other CAD tools?
CAESES® is exclusively made for automated design processes in the CAE industry. Hence, we focus on maximum robustness, fixed patch identifiers for automating the meshing, triangulation controls, scripting possibilities for highly customized models and much more in this context. The goal is always to robustly generate feasible design candidates in an automated way. The geometry creation does not break or fail to regenerate, for which a unique dependency-based framework is implemented.
I have a CAD software already, do I need CAESES®?
You can use CAESES® as your primary CAD solution which is often the case in smaller organizations, or as an upfront CAD tool in a collaborative and integrated way with traditional design and production CAD (e.g. CATIA, NX, Pro/E, SolidWorks). These traditional tools, although powerful, are detail-oriented and encompass features which may not be relevant for simulation. In addition, batch mode runs and automating the geometry generation for design explorations is not their focus.
Who is you target user?
CAESES® targets simulation engineers that need a flexible tool for the pre-CAD stage, to explore novel and innovative designs in an automated process. There is a strong focus on CFD engineers, but CAESES® gets also coupled to structural analysis. Since CAESES® has a powerful CAD kernel, it can be an flexible solution for CAD engineers that need a high robustness, advanced scripting and automation capabilities.
Is it an optimization software?
Yes. However, CAESES® is a geometry modeler in the first stage. That's the main reason for most of our users to integrate CAESES® into their workflows. The CAD capabilities are the key difference compared to other general-purpose optimization software. Even though the geometry can be connected to the integrated optimization strategies, it is an optional offer that you can use. CAESES® provides a set of strategies for advanced parameter studies and shape optimization (e.g. response surface techniques) that can be readily triggered and which are integrated in the GUI. If you already use an optimization software in your company, you can integrate CAESES® as a geometry engine into your existing loop. CAESES® has a batch mode and can be controlled by other optimization software without any problems, it's absolutely simple and robust. We have various optimization and CAE partners where we make sure that our solutions work together as easy as possible for the user.
Does it also contain CFD solvers?
No. CAESES® does not contain any CFD or simulation capabilities. Instead it seamlessly integrates existing simulation tools that can be triggered in batch mode.
How can I license it?
We provide different licenses for companies and for academic purposes. Ranging from a standard edition up to a power edition: There are several editions to choose from, depending on your industry, application, design task and budget. We are also very open to discuss special packages for small companies, start-ups and freelancers. Contact us or browse here for more information …
More Questions?
We'd be happy to talk to you, either through emails, a telephone call or a webmeeting! Please simply get in touch with us if you are interested in using CAESES® for your specific engineering application. Finally, note that there is a CAESES®-related newsletter which is sent out once or twice a month, and which gives you the latest developments and product updates.
Icons on this page by icons8.
---