Geometry for Robust Variation
CAESES®' foundation is a powerful and flexible parametric 3D modeler. It is your perfect choice if you need reliable and efficient geometry models for conducting automated studies with your simulation tools.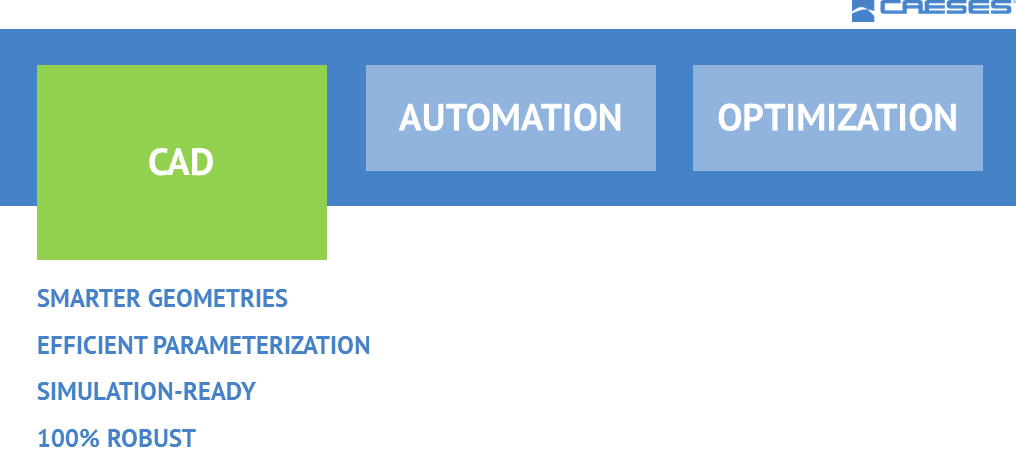 Unlike traditional CAD tools, the main focus of CAESES® is the smart design and robust variation of complex flow-exposed surfaces – no matter if you cope with internal or external flows.
Through the dependency-based modeling approach the geometry will never break or fail to regenerate.
Applications
Examples are turbochargers including volutes, pumps, ship hulls, aircraft wings, arbitrarily shaped ducts, turbomachinery blades, casting components etc. Pretty much anything that needs to be improved in terms of its flow or even structural performance.
Video
Watch this very short CAESES® video which shows how geometry variables are changed to modify the shape. The design variables of a model are listed in a separate editor, and the values are changed through convenient sliders with lower and upper bounds.
Efficient Variable Geometry
CAESES® gives you powerful surface generation tools to create an efficient variable geometry model for optimization purposes. These surface techniques can incorporate all your flow-related ideas so that you can make use of your experience and domain expertise.
Save Simulation Time
With a smarter surface parameterization, you can bring down your total numbers of free variables – which saves you time in terms of computational efforts in simulation-driven optimizations. Typically, a CAESES® user can save a few days up to several months through benefiting from the right parametric model (read this case study).
By using CAESES®, we could massively bring down our design cycle from several months to only a few weeks.

— Nicolas Lachenmaier, Engineer for Fluid Dynamics and Thermal Analysis, MTU Friedrichshafen
Geometry Constraints
CAESES® models automatically fulfill all required geometry constraints, such as manufacturing restrictions, packaging, cross-sectional areas, volumes, centroids, A/R ratios, etc. With this, you make sure that only feasible designs are created during automated studies. For this purpose, CAESES® offers the use of optimization methods within the scripting environment so that any constraint can be realized, for any application.
Why CAESES for CAD?
You can use CAESES® as your primary CAD engine, or as an upfront CAD tool in a collaborative and integrated way with traditional design and production CAD (e.g. CATIA, NX, Pro/E, SolidWorks). These traditional tools, although powerful, are detail-oriented and encompass features which may not be relevant for simulation. Most important, CAESES® has its full focus on robustly automating the geometry generation, for which a dependency-based model hierarchy is used.
Use a lightweight and flexible geometry model for automated processes in the pre-CAD stage.
CAD Capabilities
The curve and surface modeling capabilities are based on a powerful object-oriented approach which is handed over to you in a great and intuitive graphical user interface. Even though most users work in this graphical user interface, each design step can be fully scripted and automated. CAESES®  also provides geometry and mesh morphing capabilities.
The following CAD capabilities are provided:
Parametric 2D sketches and full-blown 3D modeling
Innovative surfaces techniques for sweeps with custom parameter distributions
NURBS curves and surfaces
Bézier curves
Intersection and projection curves/points
Mathematical curves such as polynomials or trigonometric functions
Specialized and fairness optimized curves for intuitive 2D modeling
NACA curves
Developable surface
Boolean Operations for solid objects (union, intersection etc.)
Fillet modeling such as constant and variable radius fillets between two surfaces
Surface triangulation control with snapping mechanisms for creation of closed STLs
Common imports and exports (IGES, Colored STL, STEP, Parasolid, ACIS, DXF, VTK)
Specialized and proprietary export formats for meshing and CFD tools (write your own formats in CAESES®)
Mapping of 2D sections onto 3D stream surfaces for blade design
Section generation for e.g. hydrostatic calculations in ship design
Full scripting/automation of geometry-related tasks, incl. batch mode
Made for Many Industries
Flow and structural analysis gets applied in loads of different engineering fields. CAESES® provides generalized methods for the design of complex 3D free-form shapes in any industry. There are add-ons available that extend the functionality by industry-specific tools such as parametric blade and ship hull design.
Industries
Check the industry-specific information for more details in your engineering context.
Ship Hull Design
CAESES® provides a specialized set of design capabilities to create and optimize any kinds of ship vessels. See the marine section for more information.
Blade Design
For maritime propeller design, please see the marine section. Information about the parametric design of turbomachinery and pump blades can be found in this section.
NEXT: SIMULATION-READY GEOMETRY
---