Simulation-Ready Geometry
Geometry in CAESES® is ready for automated meshing with external tools. All models can be set up with fixed patch identifiers such as colors that get passed over to your simulation tools. These identifiers do not change during variation, which allows you to re-use and automate the meshing and analysis procedure for new design candidates.
Create a clean and robust 3D geometry including boundary information for CFD and structural analysis.
Color Names and IDs
Create your own colors and assign them to your geometry patches. Each color can have a custom name and a custom ID. Both attributes will be stored in the export file, in particular, for STL exports. This allows you to create your meshing and analyzing setups based on these references. Even if the geometry changes within studies, these identifiers will be maintained by CAESES.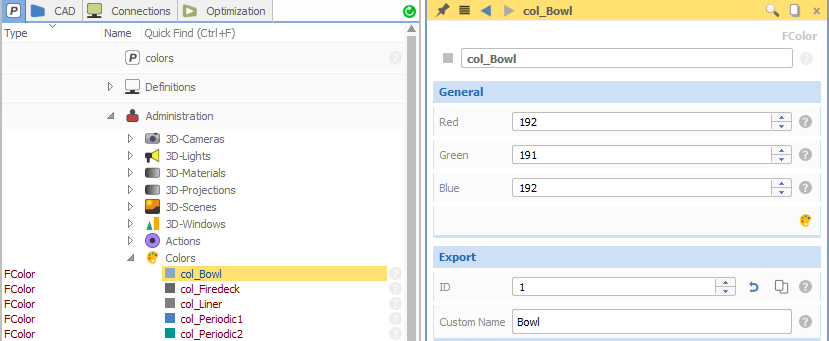 Save Time by Automation
Derive robust parametric geometries for the flow and solid domains of your model as an input for your meshing and simulation software. With these support geometries, automate the CFD analysis and – if needed- the structural analysis by putting everything into a single loop. These high automation possibilities can give you a massive speed-up in the early phases of a design process!
Clean Geometries
In addition, the generated geometries in CAESES® are typically watertight i.e. closed and absolutely clean. You will have no issues with overlapping surfaces or gaps. However, if needed, you can apply healing and snapping mechanisms to fix a surface or its triangulation. This issue is critical if your meshing software is using STL input. The coloring mechanisms are also available for sending information about the different surface patches to your meshing setup. Check out this short tutorial video about watertight meshes.
Individual Patch Settings
In some situations you need a finer mesh for certain patches but you don't want to increase the amount of data for other regions. This can be done by the edit mode of the BRep geometries in CAESES®. You simply have to select the patch where you want to have a different triangulation and enter the settings for it. The new triangulation also automatically snaps to the adjacent triangles of other patches.
In addition, you can set a color for an individual patch. Both the color and the triangulation settings can be maintained even through subsequent operations (e.g. trimming, Boolean operations, filleting), i.e., these settings get propagated down to the export file.
Note that this step needs to be done only once for the baseline design. These settings are then taken for all generated designs, e.g. during design studies and optimization runs.
Healing of Imported Geometry
Often imported geometries seem to be OK and clean, but when zooming in you can detect problems such as gaps and overlapping patch edges. Such imported geometries from other software packages can be healed to some extent. CAESES® gives you options to repair adjacent curves and collapsed corner points of "unclean" geometry. This is not just a repair process for the triangulation but rather a deeper sophisticated process to clean up the underlying NURBS topologies. This makes the imported geometry ready for automated meshing and simulation tools. An example is the automated creation of flow domains for imported NAPA ship hulls.
ANSYS Support
Color and ID settings can also be used to define so-called named selections for the ANSYS mesher and the ANSYS DesignModeler. Read more.
More Information
There is an article about the "colored" IGES and STEP format of CAESES® that is of interest for several simulation packages such as STAR-CCM+. Another blog post "New export for CONVERGE users" gives information about coloring surface patches for robust and easy data exchange with CONVERGE CFD.