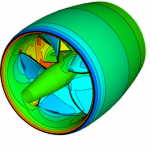 The free edition CAESES® Free as well as the pro edition CAESES / FRIENDSHIP-Framework (FFW) are available for both Windows and Linux operating systems (note that there is one installer for both editions).
CAESES® Free is a free but limited edition and can be used for commercial work. For the pro edition CAESES/FFW, we provide different license types depending on the individual situation of the customer (commercial/academic).
We also offer a free academic pro edition for students. Simply request such a license directly from within CAESES® Free, via  menu > help > license upgrade > student license registration.

Free Download
If you are a new user, just download your CAESES® Free version from the given links below and register with your name and email address during the installation process. That's it!


CAESES®/ FFW 3.1 for 32bit Windows
Tested on Vista, Win7 and Win8.


CAESES®/ FFW 3.1 for 64bit Windows
Tested on Vista 64bit, Win7 64bit and Win8 64bit.


CAESES®/ FFW 3.1 for 32bit Linux distributions


CAESES®/ FFW 3.1 for 64bit Linux distributions
Good results expected with Debian Squezze, Ubuntu 10.04, 12.04, Suse Enterprise 10.3+ (like SLES12), RedHat 5.4+ (like RHEL5, RHEL 6, SL 6), some other 2.6er kernel distributions. Please install a proprietary 3D GPU driver on your Linux distribution (OpenGL GLX extension required). You have to have a running DBUS message bus.
---
See also our changes log for more detailed version information. If you need an older version for some reasons, please simply write us a message which includes the version and OS information.
Questions and Help
See the FAQ section of the CAESES forum if have questions or problems with e.g. installing the software.
In the documentation browser of CAESES® Free and CAESES/FFW, there is a comprehensive tutorial section for beginners. Finally, see also our support page for more information.