In our last blog post we briefly discussed and illustrated a smart parametric model of a F1 rear wing, which has been set up for the purpose of optimizing the aerodynamic characteristics of the race car. We received a lot of positive feedback on this work, so that we decided to show some more variable CAESES® models in our blog section. This time: blade design for a drone model.
The Challenge: Increase the Aerodynamic Lift
One of our colleagues currently works on the blade design of a drone, in the context of the drone challenge that is initiated by a very interesting German company called SimScale. The goal of this challenge is to optimize the design and performance of the drone, in particular, to increase the aerodynamic lift of the drone.
The Blade Model
Our colleague imported the existing baseline of the drone geometry and replaced the blades by a new parametric model. CAESES® comes with specialized functionality for the design of rotor blades, which was used to set up the presented blade model. The typical blade profile characteristics – such as chord length, camber, thickness, pitch, skew etc. – are controlled in spanwise direction by a set of function graphs. These graphs are user-defined 2D curves, and the shape of these graphs is usually controlled by optimization algorithms, to conduct fully automated studies and shape optimizations including CFD analysis for each design. In the following animations, the graphs are changed manually in order to give you a good understanding of the CAD model.
Check out the following animations which illustrate the new parametric design of the blade by adding more shape control in each step – click on the animations for a larger version.
Chord Length Control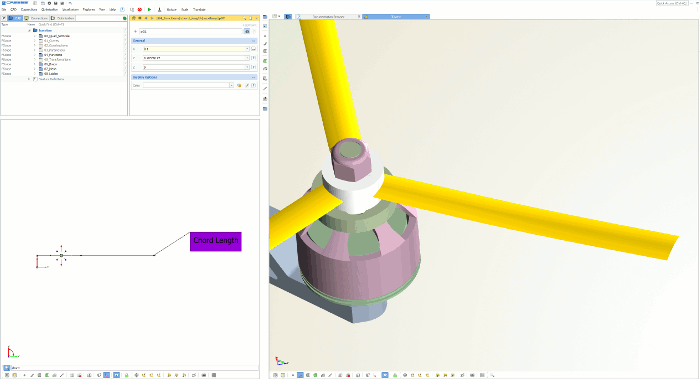 Pitch Control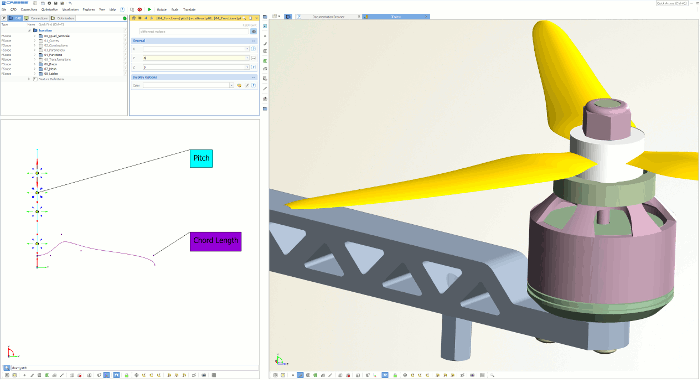 Thickness Control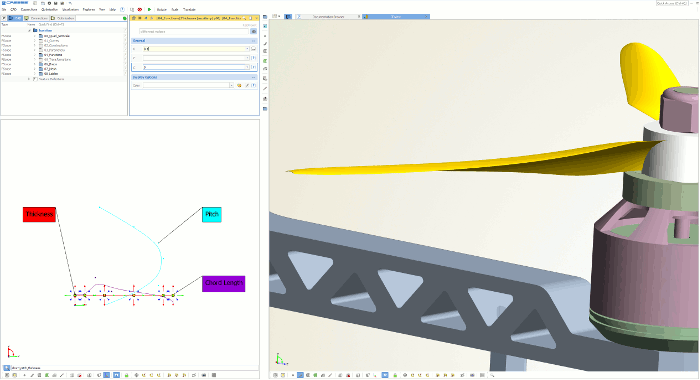 Camber Control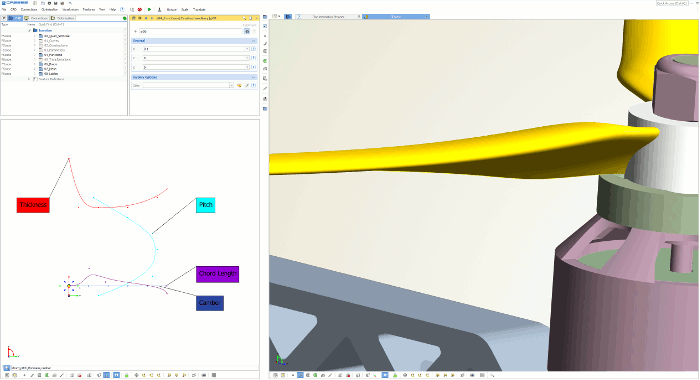 Skew Control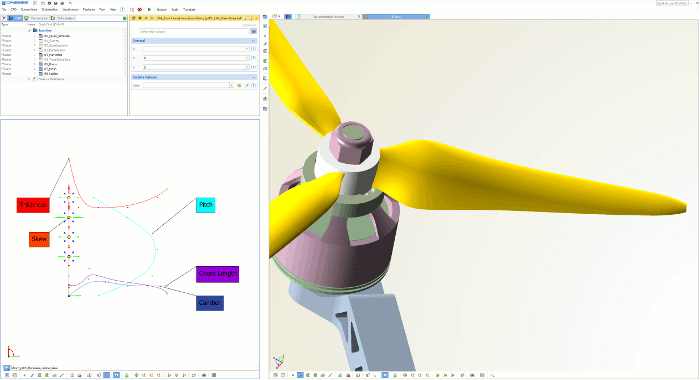 What's Next?
We keep the fingers crossed for our colleague, and we look forward to see the final results of this study (incl. CFD) that we will also share with you in one of our next blog posts.
Update April 2017
Meanwhile, we have been working on several other drone projects and we look forward to discuss your specific model. If you are interested in having a drone blade model ready e.g. for CFD studies or CFD-based shape optimization, then please do not hesitate to drop us a line.
More Information: Parrot Case Study
There is a case study about drone blade design at Parrot, where CAESES is used as a design and optimization platform.
Follow Us
Are you interested in design optimization for complex blade shapes such as the ones for drones? Then stay tuned and sign up for our newsletter to receive short reads like this one here! Don't worry, we won't bother you with too many emails. Of course, you can unsubscribe at any time 🙂