Smarter CAD for a Better Performance
Energy systems and power generation is what drives our modern economy. These days our electricity is derived from a mix of traditional energy sources such as fossil fuels, hydroelectric, and nuclear, as well as renewable energy sources such as wind, wave, solar, and biomass. With efficiency, safety, and reduced emissions being of paramount importance, CAESES® is the ideal tool for optimizing key products and components used in diverse power generation systems.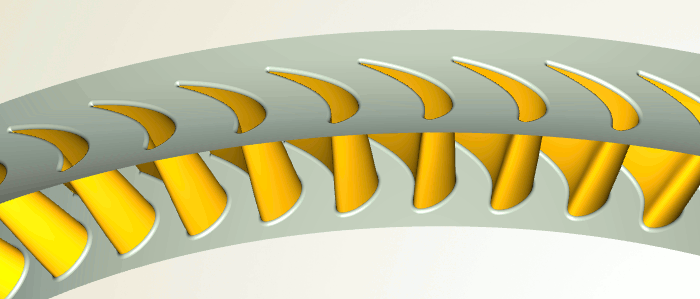 Use CAESES® as your dedicated CAD and flow optimization platform for the design of turbines and other power systems.
Create intelligent and variable geometry and connect all your simulation tools. Automate the entire design process to investigate the flow behavior of your design candidates with just a single click.
Pump Design and Optimization
Leading pump designers worldwide use CAESES® to optimize their pump and volute geometries. Read more.
Example Applications
Hydroelectric turbines
Steam turbines (blades and any kinds of ducts and channels)
Boilers and heat exchangers
Tidal power systems
Wind turbines
Pumps
"In our experience, using CAESES for creating parametric models was MUCH faster and easier than with our traditional CAD tool. With CAESES we can now create all of the design candidates in hours instead of weeks!"

— Pol Muller, Head of Thrusters, Sirehna
More Information
One of our key customers in the context of energy is SIEMENS Gas Turbine department where CAESES® is used within a highly automated design process (read more). See also our turbomachinery section for related applications. A case study of a tidal power system from Sirehna is given here.
Just drop us a line if you want to discuss your individual application with us: