Bulk Carrier Optimization at DNV GL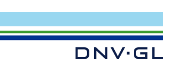 Although often seen as cheap workboxes of the worldwide dirty ore and coal trade, bulk carriers have to comply with an increasing bunch of regulations with efficiency, safety and ecologic background. DNV GL recently assisted with bulk carrier optimization services for hull and machinery for a new type design Ultramax-size vessel called Diamond 2.
Type Designs Bear High-Level Engineering Efforts
Ships with the fullness of a bulk carrier are difficult to analyze with CFD due to a high share of viscous effects in resistance and propulsion. This makes hydrodynamic optimization of bulk carriers expensive although the outcome is considered marginal compared with a faster container vessel with even more installed power. The building costs of a bulker often hardly exceed the steel price. Properties that could cancel any thought for high-level engineering such as optimization immediately, if there was not the fact that there is such a large fleet of bulkers sailing the oceans. A good reason for Graig Shipping Group and Econovo to get into the market with a state-of-the-art Ultramax type design from which presumably around 100 units will be delivered.
World-Leading Technology for Hydrodynamics
For the hydrodynamic hull design the well-known ECO-Lines services of DNV GL were used. The Diamond 2 received the complete package of treatments from wave reduction and aft-body propulsion optimization on to an optimized twisted aft ship and a high efficient design propeller. As usual, CAESES is linked in the process chain for automatically generating the hull geometry. From there, all necessary data such as constraint values and numerous outputs for robust analysis, such as reparametrized surfaces for grid generation in FS-Flow and STL meshes for the OpenFOAM-based RANS solver. This setup is a very powerful and efficient design process, to quickly find the optimal design candidate.
Promising Performance Prediction
For this bulk carrier optimization, the objective is the power consumption on five draft/speed combinations with typical time-at-sea weightings (operational profile). Whereas ships with high wave resistance ratio often see double digit optimization results, it is a huge success for a bulker to be improved by 5% in the operation range. The ship was tested in SVA Potsdam (before the application of an asymmetric stern, see below) and was compared to an anonymous fleet of 4 similar vessels. The graph for the design draft condition is shown below:
Final Results
The final hull features an optimized asymmetric stern instead of appendages. Simulations show another 2.6% power reduction due to the twisted inflow. A high-efficiency propeller and a rudder with a vortex-reducing bulb complete the propulsion system. Graig expects the efficiency enhancements to result in a fuel consumption of 14.6 tonnes per day at an optimized speed of twelve knots.
About the Author
Thanks a lot to Bardo Krebber from DNV GL, for providing these interesting details and images of this case study. Bardo is a naval architect and optimization specialist at DNV GL office Potsdam. He studied at TU-Berlin and UNSW Sydney. Since 10 years he is involved in development and project work for the ECO-Lines service of DNV GL Maritime Advisory Germany (formerly known as FutureShip).
"As Friendship Consulting, FutureShip and then DNV GL, we have been using CAESES since 2008 as geometry tool for optimization of ship hulls and appendages. It comes as a stable working platform, which is constantly serviced and developed by an innovative team. The open parametric approach exactly meets our way of working. So, we can create and develop our own models in CAESES to provide the best hull forms to our customers.
CAESES combines distinct mathematical CAD with modern handling and appearance. It is easy and intuitive to use but also provides full control for all who like or need mathematical definitions. With its inbuilt feature programming, it even allows us to put in place own demands for almost all kinds of additional ideas. CAESES proved to be the best available solution on the market for our services."

— Bardo Krebber, Naval architect and optimization specialist at DNV GL
More Information
You can find more information about the bulk carrier optimization and the Ultramax bulk carrier in the article "Reinventing Ultramax". Further general information about the ECO-Lines service can be found on the DNV GL pages. Feel free to contact us if you have any questions about this case study.