In one of our recent customer projects we needed to design a parametric impeller for a CFD-based optimization. The shape of the leading edge had to be asymmetric, which – so far – had not been smoothly supported by CAESES® in a direct and convenient way. Actually, we needed this piece of functionality also for fans and pumps rather urgently, where each of our project engineers applied different techniques to set up asymmetric shapes. So the time had come to make it more easily available.
In CAESES®, the so called "offset curve" is the first choice for creating thickness-based 3D curves. And this works fine already, but it uses only one symmetric thickness distribution for the profile. Hence, we decided to quickly add some more functionality to this offset curve.
Our idea: Create two offset curves with two different thickness distributions, and put them together in order to have a single 3D curve in the end. For each offset curve, we generate only half a profile (suction side and pressure side, respectively). This can be done by deactivating the option "both sides". For the pressure side, we simply swap the profile location. The following screenshot shows the feature definition that does the job:
This took us just a few minutes to implement, and there is nothing new to learn for a CAESES® user. With this, CAESES® is now well equipped to readily give you any kind of profile shape in the context of impeller or fan design, may it be symmetric or asymmetric.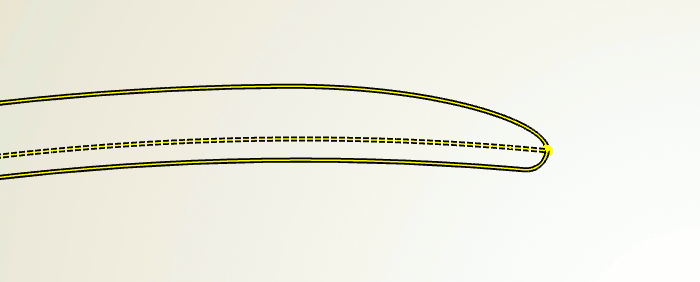 Interested in trying out CAESES® for your application? Then download and install our free version today! It is fully free for commercial work, and you can directly start setting up your own intelligent model 🙂