Description
Diesel engines are commonplace across the industry due to their economic and reliability advantages. Optimization of the piston bowl geometry as well as the injection strategy can be very effective in reducing NOx and SOOT emissions. This webinar will show how an automated workflow can be established with CAESES® and Converge CFD for optimization.
A variable parametric geometry of the piston bowl with an automated adjustment of the compression volume was generated in CAESES®. CAESES® drives the automated execution of Converge CFD computations including the consideration of physics parameters such as injection timing and spray orientation. A multi-objective genetic algorithm was employed in the optimization.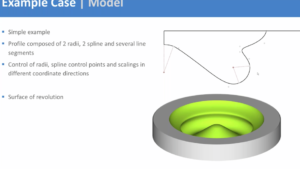 Recording
The webinar registration expired but there is a recording available that can be found here:
More Information
See the automotive section for more information about the design and optimization of piston bowls and other automotive components.
---