CAESES® Free is a derived edition of our flagship product CAESES® which has been developed for simulation-driven design of flow-exposed surfaces. CAESES® Free is suited for anyone who needs free and powerful 3D CAD for parametric geometry modeling. In addition, it offers integration and automation of your simulation tools.
Why is it free? CAESES® Free helps us to collect a lot of amazing feedback. With this additional input, we are able to continuously improve our products, and bring the spirit of simulation-driven design to a broader community.
Powerful Features
Compared to our pro edition, CAESES® Free is already a comprehensive and powerful tool! It is fully free, there are no annoying or hidden limitations, and you can use it for commercial work. Why not trying?
Click on the links below in the table for more detailed information.
| | CAESES® Free | CAESES® |
| --- | --- | --- |
| Commercial Use | | |
| Geometry Modeling | | |
| Software Connection | | |
| Design Studies and Optimization | | |
| Unlimited Number of Design Variants | | |
| Advanced Optimization Strategies incl. Response Surfaces | | |
| 2D Charts and Correlation Plots | | |
| SSH Resource Manager (Grid Engine) | | |
| Dakota GUI Interface | | |
| Free Form Deformation | | |
| Adjoint Optimization | | |
| Additional Export Formats incl. Colored IGES/STEP and CONVERGE Format | | |
| ANSYS Add-In | | |
| Batch Mode | | |
| Offline Use | | |
| Premium Support (Phone, Email, Helpdesk) | | |
Who should use CAESES Free?
With this piece of software we basically address anyone who is interested in novel parametric 3D modeling! If you are you looking for a free CAD software that provides general CAD functionality plus the most important export formats (IGES, STL, STEP,….), then simply download CAESES® Free and give it a try!
CAESES® Free is a bit different when you compare it to other CAD tools in the market, but once you've understood the basic concept, it's powerful – and it's fun!
Initially, we developed CAESES® Free for the following experts, which still forms our largest user base:
Users of both open source (e.g. OpenFOAM) and commercial CFD codes to bridge the gap between geometric modeling, geometry variation and CFD analysis.
Developers of CFD tools and researchers in fluid dynamics to use CAESES® Free as their front end for code validation, result comparison and parametric studies of CFD settings and design variants.
CFD consultants to utilize CAESES® Free as a convenient environment to showcase the product improvements they could achieve.
CFD users to accelerate their CFD preprocessing tasks.
Entrepreneurs to generate new business by developing parametric models, optimization set ups and automation features and, thus, position themselves as consultants to users of the pro edition CAESES®.
"I enjoy using CAESES® Free as it allows me to parametrically generate geometries without ever going through a CAD design cycle. In this sense it really streamlined my process from concept to CFD verification."

— Ruhou Gao, Turbomachinery Engineer, Spencer Turbine Company
Free Download
Download and install your free version today and be part of the CAESES® Free community! CAESES® Free comes with loads of easy step-by-step tutorials, and we provide additional videos to get started with it.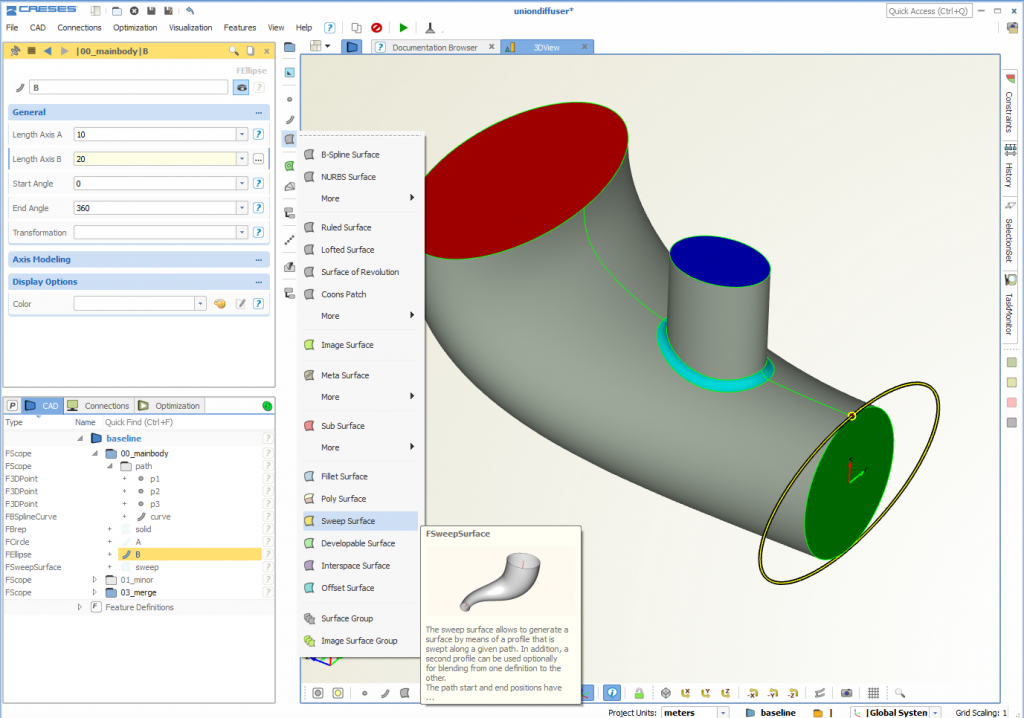 ---
Community Forum
Be active and post all your questions in the CAESES® forum! This forum will also help you to get up to speed with CAESES® Free in the initial stage. Our staff also browses through the forum from time to time, and tries to help you with your questions.
Video Tutorials
In addition to the PDF tutorials that are shipped with CAESES® Free, you can also start with our short-and-sweet tutorial videos. If you are interested in more general videos (applications, webinars etc.) then check out this page. OpenFOAM users can also watch the recording of a webinar, that shows how to integrate and automate OpenFOAM.
Blog
We regularly share interesting CAESES® stories in our blog that provide some tips & tricks, but also give you a broader view of CAESES® including a direct feedback from the team behind CAESES®.
---
Upgrade to the Pro Edition
There are many reasons to upgrade to the pro edition of CAESES®. In particular, there is our great supportive team behind CAESES® that helps you immediately with your issues. Our fast and uncomplicated support (helpdesk, email, phone) really makes a difference for your daily work with CAESES®. In terms of software functionality, check out the section Upfront Optimization which lists additional features of the pro edition.
---