Free Version for
3D Modeling and CFD Automation
CAESES® Free is a fantastic edition of our flagship product CAESES® which has been developed for simulation-driven design of flow-exposed surfaces. CAESES® Free can be your powerful CAD system that additionally offers integration and automation of your simulation tools. It's fully free, there are no annoying or hidden limitations, and you can use it for commercial work!
Who should use CAESES® Free?
With this piece of software we address
Users of both open source and commercial CFD codes to bridge the gap between geometric modeling, geometry variation and CFD analysis
Developers of CFD tools and researchers in fluid dynamics to use CAESES® Free as their front end for code validation, result comparison and parametric studies of CFD settings and design variants
CFD consultants to utilize CAESES® Free as a convenient environment to showcase the product improvements they could achieve
CFD users to accelerate their CFD preprocessing tasks
Entrepreneurs to generate new business by developing parametric models, optimization set ups and automation features and, thus, position themselves as consultants to users of the pro edition CAESES®
Anyone who is interested in parametric modeling for more complex free-form surfaces
| | CAESES® Free | CAESES® |
| --- | --- | --- |
| Commercial Use | | |
| Parametric Modeling | | |
| CFD Software Connections | | |
| CFD Preprocessing (such as Healing and STL Generation) | | |
| CFD Postprocessing | | |
| Parametric Blade Design | | |
| Free Form (Box) Deformations | | |
| Automated Geometry Variation | | |
| Optimization (Single-/Multi-Objective) and Charts | | |
| Dakota Interface | | |
| SSH Resource Manager | | |
| Batch Mode | | |
| Premium Support | | |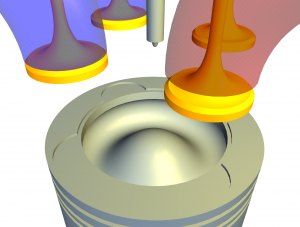 Why is it free?
CAESES® Free helps us to collect a lot of amazing feedback. With this additional input, we are able to continuously improve our products, and bring the spirit of simulation-driven design to a broader community. Join in and be part of the CAESES® Free community! Check out the CAESES® Forum which helps you to get up to speed with CAESES® Free:
Service Required?
You don't have the time in your daily business to create geometry with CAESES® Free,  but it would be great to have such a simulation-ready and variable geometry available? Simply ask us! We offer a quick and professional service to create tailored parametric models for you. Just give us your input (dimensions, design parameters, constraints, reference geometry etc.) plus a couple of days. Use such a custom model either with CAESES® Free without any additional costs, or together with our pro-edition to readily conduct automated design studies and formal shape optimizations.